Alfred Emile Vuagniaux
Little had been known about Alfred and his family until the Spring of 2001. At that time I was fortunate enough to see a message board about the Vuagniaux family. This has led to finding two first cousins and two second cousins and their families. Because of this I can add a significant amount of information on Alfred Emile's family. Emile was named after his mother's brother. Emile Pahud had lost his life on May 14, 1864 at Vicksburg, MS. Emile Pahud and three companions had escaped from the Rebel forces and had been on the run. They were tracked down by dogs and the dogs killed Emile Pahud. Emile's three companions buried him at the location where they were taken prisoners once more.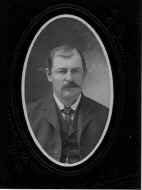 Emile was the first born child in the family of Frank and Adele Pahud Vuagniaux. He was born on March 17,1867. He became a locomotive engineer for the Chicago North Western Railway. His brother Paul Louis, and Paul Louis's sons Leslie and Paul also worked for the railroad. The author of this web site, has some railroad experience as he took a job on the railroad ( Union Pacific) during the last summer of WWII (1945).After finishing High School, I once again worked on the railroad for another year. Our hometown, Council Bluffs, Iowa and Omaha, Nebraska was a major rail center a half century ago.
Alfred Emile lived in Boone, Iowa. He married Armeda Rhinehart on March 12,1890. The children of Alfred Emile and Armeda are:
| | | | | |
| --- | --- | --- | --- | --- |
| Name | Born | Died | Married | Comments |
| Waldo Wesley | Mar 22,1892 | May 17,1955 | Marie Rasmusson | |
| ALetha Orvilla | Nov 23,1893 | | George Duffield | |
| Florence Ethel | Oct 08,1898 | Sept 21,1990 | Roscoe Blaine Garrison | Died in Des Moines, IA. |
| Marvin Darrell | Nov 27,1911 | Aug 1989 | Beulah Porter | Darrell was Bacteriologist at hospital in Des Moines, Iowa |
At some time around 1907 the family got the idea of homesteading a piece of property in Umma, Colorado. Part of the family, including the wife Armeda and two daughters Aletha and Florence, along with two men from the Rhinehart side of the family went to Colorado. There they built a home on the prairie and lived there at least one year under the rules of homestead property. This property still belongs to the descendents of this family.
Pictures of life in Colorado in 1907 at the homestead ( Click here to see pictures)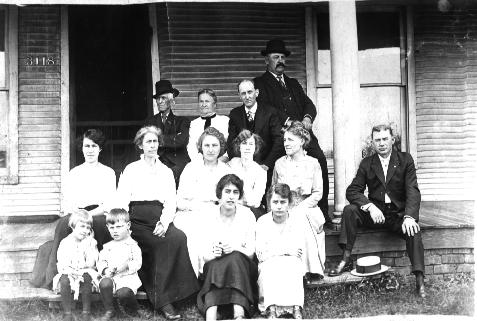 The photo above was taken before 1914. It is believed this photo was taken in Des Moines, IA at 3118 E 12th St. In the back row on your left is Jeremiah Rhinehart. Next to him is his wife. The next man is John Edwards, a son in law. The man with the bowler hat is Alfred Emile Vuagniaux. The woman in the middle row on the left is Vera Rhinehart Edwards, then Armeda Rhinehart Vuagniaux, Unknown, Aletha "Minnie" Vuagniaux Duffield, Unknown, George Duffield. On the front row is Virginia Edwards, Marvin Darrell Vuagniaux is the young boy in the front row. In the front row with the dark hair is Florence Ethel Vuagniaux Garrison and Marie Duffield.
See Alfred Emile Photo Gallery- (Click Here)
Top of Page
Next Page
Histories Menu